Robert Franco, Graduate Assistant of History and Gender, Sexuality & Feminist Studies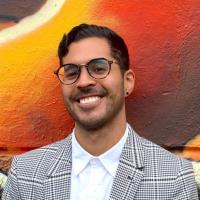 I am a historian of twentieth-century Mexico, with a speciality in politics, gender, sexuality, and culture. My dissertation explores the issues of homophobia, heterosexism, and antagonism towards sexual politics in Mexico's left-wing parties and organizations.

I graduated with a B.A. in History (summa cum laude and departmental honors) from the University of Pennsylvania where I was a Mellon-Mays Foundation and Penn Humanities Forum fellow. At Duke University, I am a Deans Graduate Fellow and received my M.A. in 2017. My primary advisor is Dr. Jocelyn Olcott.
Education:

| | | |
| --- | --- | --- |
| MA | Duke University | 2017 |
| BA | University of Pennsylvania | 2014 |
Specialties:

Latin America and the Caribbean
Women, Gender and Sexuality
Labor and Working Class History
Cultural History
Emotions and Psychology of the Self
Recent Publications

Franco, R, Transgressing Che: Irina Layevska Echeverría Gaitán, Disability Politics, and Transgendering the New Man in Mexico, 1964–2001, Radical History Review, vol. 2020 no. 136 (January, 2020), pp. 75-97, Duke University Press [doi] [abs]
Franco, R, "Todos/as somos 41": The Dance of the Forty-One from Homosexual Reappropriation to Transgender Representation in Mexico, 1945–2001, Journal of the History of Sexuality, vol. 28 no. 1 (January, 2019), pp. 66-95, University of Texas Press [doi]