Neil S. Siegel, David W. Ichel Distinguished Professor of Law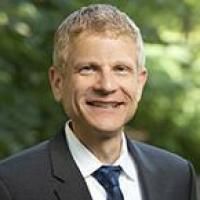 Contact Info:
| | |
| --- | --- |
| Office Location: | Duke Law School 210 Science Dr, Duke Box 90362, Durham, NC 27708 |
| Office Phone: | (919) 613-7157 |
| Email Address: | |
| Web Page: | http://law.duke.edu/fac/siegel/ |
Education:



Ph.D., University of California - Berkeley, 2001
J.D., University of California - Berkeley, 2001
Field Examination in American Constitutional Theory, 1999
Field Examinations in Law & Economics, 1997
M.A., Duke University, 1995
B.A., summa cum laude, Duke University, 1994
Specialties:

American Politics
Research Interests:

Neil S. Siegel is Assistant Profesor of Law and Political Science at Duke University. His teaching and research center on constitutional law, federal courts, and related areas, including constitutional theory and strategic analysis of constitutional law. Professor Siegel clerked for Associate Justice Ruth Bader Ginsburg during the U.S. Supreme Court's October 2003 Term. During the previous two years, he served first as a law clerk to then-Chief Justice J. Harvie Wilkinson III of the U.S. Court of Appeals for the Fourth Circuit, and then as a Bristow Fellow in the Office of the Solicitor General at the U.S. Department of Justice. He earned bachelor's and master's degrees from Duke, and a law degree and Ph.D. in Jurisprudence & Social Policy from UC Berkeley. He is currently Special Counsel to U.S. Senator Joseph R. Biden Jr. on the Senate Judiciary Committee.
Recent Publications (More Publications)

Siegel, N; Bradley, C, Historical Gloss, Constitutional Conventions, and the Judicial Separation of Powers, Georgetown Law Journal, vol. 105 (2017), pp. 255-322 [3573] .
Siegel, N; Bradley, C, Judicial and Media Independence After the Next Attack, Lawfare (2017) .
Siegel, N; Siegel, R, Sex Equality's Past--and Future: Pregnancy, Contraception, and Abortion (2017) .
Siegel, N, Reciprocal Legitimation in Response to President Trump, Balkinization (2017) .
Siegel, N; Lithwick, D, Anthony Kennedy is Not Stupid, Slate (2017) .