Erika Weiberg, Assistant Professor of Classical Studies and Theater Studies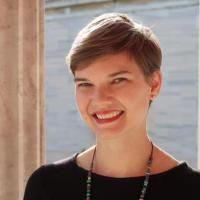 Dr. Erika Weiberg (she/they) researches and teaches Greek language and literature, with a focus on Greek poetry, gender and sexuality, and theory and reception. She received her PhD in Classics from the University of North Carolina at Chapel Hill in 2016 and taught at Florida State University from 2016 to 2020, when she joined the faculty at Duke.

Their current book project, titled The Wounded Home Front: Witnessing Women's Trauma in Greek Tragedy, investigates the performance of women's emotional pain as a central feature of plays about homecoming. This book asks what public feelings and counter-narratives about trauma are explored through the prominent female characters of tragic nostos stories, for whom the story of homecoming is not one of salvation and recovery of the self, but rather of revenge, replacement, erasure, and escape.

She is also at work on a second book project that investigates how contemporary writers and performance artists engage with Greek mythology to reimagine assumptions about gender.


| | |
| --- | --- |
| Office Location: | |
| Office Phone: | (919) 681-4292 |
| Email Address: | |
Teaching (Fall 2021):
GREEK 101.01, ELEMENTARY GREEK Synopsis

Gray 228, MWF 01:45 PM-02:35 PM
(also cross-listed as GREEK 551.01)
Office Hours:

Dr. Weiberg is happy to meet with students by appointment over the summer if they have questions about the program at Duke or anything else. Please request an appointment over email.
Education:

| | | |
| --- | --- | --- |
| D.Phil. | University of North Carolina - Chapel Hill | 2016 |
Keywords:

Gender History and Theory • History of sexuality • Psychic trauma in the theater • Theater--Greece
Recent Publications (More Publications)

Weiberg, EL, The Bed and the Tomb, Mnemosyne, vol. 73 no. 5 (January, 2020), pp. 729-749, Brill [doi] [abs]
Weiberg, E, Learning to Bear Witness: Tragic Bystanders in Sophocles' Trachiniae, in Emotional Trauma in Greece and Rome, edited by Karanika, A; Panoussi, V (January, 2020), pp. 177-191, Routledge, ISBN 978-0815373476 [abs]
Weiberg, EL, Tectius illa cupit: Female Pleasure in Ovid's Ars amatoria, Helios: a Journal Devoted to Critical and Methodological Studies of Classical Culture, Literature, and Society, vol. 47 no. 2 (2020), pp. 161-189, Project Muse [doi]
Weiberg, E, Weapons as Friends and Foes in Sophocles' Ajax and Euripides' Heracles, in The Materialities of Greek Tragedy, edited by Telò, M; Mueller, M (August, 2018), pp. 63-78, Bloomsbury Academic, ISBN 978-1350028791 [abs]
Weiberg,, The Writing on the Mind: Deianeira's Trauma in Sophocles' Trachiniae, Phoenix, vol. 72 no. 1/2 (2018), pp. 19-19, Phoenix [doi]