Manoj Mohanan, Associate Professor of Sanford School of Public Policy and Economics and Associate Research Professor of Global Health and Faculty Research Scholar of DuPRI's Population Research Center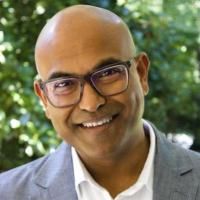 Manoj Mohanan is an applied microeconomist, focusing on health and development economics, with a background in medicine and public health. His research focuses on topics related to health and health care in developing countries including: performance-based contracts, measurement of provider quality and performance, social franchising, and social accountability / monitoring. He also studies the role of subjective expectations and beliefs in health care behavior.

Several of his projects feature field experiments, policy interventions and evaluations. He is involved in research projects in India, Kenya and China.
For more on policy evaluation and research projects in India, please visit COHESIVE-India.
Education:

| | | |
| --- | --- | --- |
| Ph.D. | Harvard University | 2009 |
| SM | Harvard School of Public Health | 2004 |
| MPH | Harvard School of Public Health | 2000 |
| M.S.P.H. | Harvard University | 2000 |
| MBBS | Grant Medical College (University of Mumbai, India) | 1997 |
Specialties:

Economics
Economics
Health Policy and Administration
International Law and Global Health
Health Systems
Health Care Financing
Research Interests: Health Economics, Development Economics, Applied Micro, Health Policy

Current projects: Experimental evaluation of input based contracts v/s outcome contingent contracts in pay for performance, Impact of Pay for Performance in Rwanda, Evaluation of Vouchers and Conditional Cash Transfers to improve obstetric care, Experimental evaluation of telemedicine; estimating price elasticity of demand for higher quality care, Impact of incentives v/s monitoring and social accountability to improve quality of care, Evaluation of state health insurance program in Karnataka (India)

Manoj Mohanan's current research projects include development of innovative methods to measure quality of care in primary care, impact evaluation of large public sector subsidy programs, experimental evaluation of provider incentives, evaluation of social franchising models, and estimating the effect of quality information on provider choice.
Areas of Interest:

Health policy in developing countries
Provider motivation and incentives
Evaluation Research
Technology and Development
Keywords:

Accidents, Traffic • Clinical Competence • Debt • Disease Management • Economic Development • Economic impact analysis • Economics • Education, Medical • Education, Medical, Graduate • Evaluation Studies • Field experiments • Fluid Therapy • Health Personnel • Infant • Motor Vehicles • Patient Simulation • Physician's Practice Patterns • Pneumonia • Practice Patterns, Physicians' • Primary Health Care • Private Sector • Public Sector • Quality Indicators, Health Care • Quality of Health Care • Regression Analysis • Rural Health Services • Schools, Medical • Urban Health Services
Current Ph.D. Students
Recent Publications (More Publications)

Kruk, ME; Gage, AD; Arsenault, C; Jordan, K; Leslie, HH; Roder-DeWan, S; Adeyi, O; Barker, P; Daelmans, B; Doubova, SV; English, M; Elorrio, EG; Guanais, F; Gureje, O; Hirschhorn, LR; Jiang, L; Kelley, E; Lemango, ET; Liljestrand, J; Malata, A; Marchant, T; Matsoso, MP; Meara, JG; Mohanan, M; Ndiaye, Y; Norheim, OF; Reddy, KS; Rowe, AK; Salomon, JA; Thapa, G; Twum-Danso, NAY; Pate, M, High-quality health systems in the Sustainable Development Goals era: time for a revolution., The Lancet. Global Health, vol. 6 no. 11 (November, 2018), pp. e1196-e1252 [doi]
Prudhomme O'Meara, W; Menya, D; Laktabai, J; Platt, A; Saran, I; Maffioli, E; Kipkoech, J; Mohanan, M; Turner, EL, Improving rational use of ACTs through diagnosis-dependent subsidies: Evidence from a cluster-randomized controlled trial in western Kenya., Plos Medicine, vol. 15 no. 7 (July, 2018), pp. e1002607 [doi] [abs]
Maffioli, EM; Mohanan, M, Touching beliefs: Using touchscreen technology to elicit subjective expectations in survey research., Plos One, vol. 13 no. 11 (January, 2018), pp. e0207484 [doi] [abs]
Mohanan, M; Miller, G; Donato, K; Truskinovsky, Y; Vera-Hernandez, M, Different Strokes for Different Folks: Experimental Evidence on the Effectiveness of Input and Output Incentive Contracts for Health Care Providers with Different Levels of Skills, Center for Global Development Working Paper no. 464 (October, 2017)
Mohanan, M; Miller, G; Donato, K; Truskinovsky, Y; Vera-Hernandez, M, Different Strokes for Different Folks: Experimental Evidence on the Effectiveness of Input and Output Incentive Contracts for Health Care Providers with Different Levels of Skills, Economic Research Initiatives at Duke (Erid) Working Paper no. 245 (May, 2017)