Ann M. Rasmussen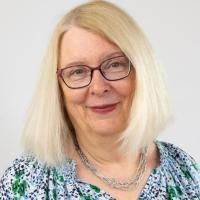 | | |
| --- | --- |
| Office Location: | 116C Old Chemistry, German Department, Durham, NC 27708 |
| Office Phone: | (919) 660-3160 |
| Email Address: | |
| Web Page: | |
Typical Courses Taught:
MEDREN 114, ASPECTS MEDIEVAL CULTURE

GERMAN 302, TOPICS LITERARY THEORY

GERMAN 203S, SEX/GENDER/LOVE GER LIT

GERMAN 201S, INTRO MEDIEVAL GERMAN
Education:

| | | |
| --- | --- | --- |
| Ph.D. | Yale University | 1985 |
| B.A. | University of Oregon | 1976 |
Specialties:

Medieval & Early Modern Studies
Gender Studies
Literary History & Criticism
Research Interests: Medieval German Literature and Culture; Poetics; Gender Studies
Current Ph.D. Students (Former Students)
Representative Publications (More Publications)

Rasmussen, AM; Westphal, S, Ladies, Whores, and Holy Women: A Reader in Gender and Class in Late Medieval German Texts, Medieval German Texts in Bilingual Editions (2010), Medieval Institute of Western Michigan University.
Rasmussen, AM, Mothers and Daughters in Medieval German Literature (1997), Syracuse University Press (Reviews: Almut Suerbaum, in Arbitrium (2/1997):162-64; Albrecht Classen, in German Quarterly 71.4 (1998): 393-94; Katrien Heene, in Paedagogica historica 34 (1998): 143-45; Francis G. Gentry, in Choice 35.7 (1998): 1196; Katherine J. Meyer, in Speculum 74.3 (1999): 816-817; Elisabeth Lienert in Zeitschrift für deutsches Altertum 128 (1999): 89-97; Albrecht Classen, in Tristania 19 (1999): 129-34; Susanne B. Kimball, in Germanic Notes and Reviews 31.2 (Fall, 2000): 203-204; Hartwig Mayer, in Seminar 36.3 (2000): 362-63; Margaret Schleissner, in Medieval Feminist Forum 30 (Fall, 2000): 50-52; Claudia Brinker-Gabler, in Beiträge zur Geschichte der deutschen Sprache und Literatur 122 (2000): 323-27; Maria Dobozy, Monatshefte 93.1 (2001): 115-17. Discussed by Joseph M. Sullivan, "Brother Hermann's Iolande: A Tale of Ideal Female Spirituality," Monatshefte 90.2 (1998): 161-75, pages 162 and 165; Edith Wenzel, in "Hêre vrouwe und übeles wîp: Zur Konstruktion von Frauenbildern im Minnesang," in Mannlîchiu wîp, wîplîch man: Zur Konstruktion der Kategorien 'Körper' und 'Geschlecht' in der deutschen Literatur des Mittelalters, ed. Ingrid Bennewitz und Helmut Tervooren, Beihefte zur Zeitschrift für deutsche Philologie, vol. 9. Berlin: Schmidt, 1999, pp. 275, 278, 280; Ruth Mazo Karras in "Sex and the Singlewoman," in Singlewomen in the European Past, 1250-1800, ed. Judith M. Bennett and Amy M. Froide. Philadelphia: Univ. of Pennsylvania Press, 1999, pp. 133-34; Albrecht Classen, "Mother Speaks to Daughter: Literary Historical Reflections on a Feminist Theme," in German Quarterly 75.1 (2002): 71-87; Martin Baisch & Hendrikje Haufe, "Väter und Söhne - Mütter und Töchter. Normbruch und Normerfüllung in Heinrichs von Veldeke "Eneasroman""in Der Deutschunterricht 60.1 (2003):62-67.).
Rasmussen, A; Eming, J; Starkey, K, Visuality and Materiality in the Story of Tristan and Isolde (2012), Notre Dame Press.
Klinck, AL; Rasmussen, AM, Medieval woman's song: Cross-cultural approaches, edited by Klinck, AL; Rasmussen, AM (January, 2015), pp. 1-279, Philadelphia: University of Pennsylvania Press [abs].
Rasmussen, A, Reprint of: Moving Beyond Sexuality in Medieval Sexual Badges, in Nahrung, Notdurft, Obszönität, edited by Grafetstaetter, A (2013), University of Bamberg Press.
Rasmussen, A, Moving beyond Sexuality in Medieval Sexual Badges, in From Beasts to Souls: Gender and Embodiment in Medieval Europe, edited by Burns, EJ; McCracken, P (2013), pp. 296-335, Notre Dame, IN: Univ. of Notre Dame Press.
Rasmussen, A, Reading in Nuremberg's Fifteenth-Century Carnival Plays, in Literary Studies and the Question of Reading, edited by Benson, R; Downing, E; Hess, J (2012), pp. 106-129, Camden House.
Rasmussen, A, Problematizing Medieval Misogyny: Aristotle and Phyllis in the German Tradition, in Verstellung und Betrug im Mittelalter und in der mittelalterlichen Literatur, edited by Meyer, M; Pincikowski, S; Sager, A (2012).
Rasmussen, A, Wanderlust: Gift Exchange, Sex, And The Meanings Of Mobility, in 'Liebe schenken': Liebesgaben in der Literatur des Mittelalters und der frühen Neuzeit, edited by Egidi, M; Lieb, L; Schnyder, M (2012), pp. 219-229, Berlin: Erich Schmidt Verlag.
Rasmussen, A, Siegfried the Dragonslayer Meets the Web: Using Digital Media for Developing Historical Awareness and Advanced Language and Critical Thinking Skills, vol. 44.1 (2011), pp. 105-114.
Rasmussen, AM, Wandering Genitalia: Sexuality and the Body in German Culture between the Late Middle Ages and Early Modernity, edited by Series, KSCLM (Fall, 2009), Centre for Late Antique and Medieval Studies, King's College London (Published in August 2009..).
Rasmussen, A, Falsche Freunde, Frankfurter Allgemeine Zeitung no. 185 (2009), pp. N5-N5.
Rasmussen, AM, "War die Jungfrau wirklich in Nöten: Neue Forschungen zur Rolle der Frau im Mittelalter, Merkur: Zeitschrift Fuer Europaeisches Denken, vol. 63 no. 7 (2009), pp. 627-33.
Rasmussen, A; Trokhimenko, O, The Winsbeck Father-Son and Mother-Daughter Poems (Der Winsbecke and Die Winsbeckin), with a Medieval Parody,", in Medieval Conduct Literature: An Anthology of Vernacular Guides to Behavior for Youths, edited by Johnston, MD (2009), pp. 61-125, University of Toronto Press.
Rasmussen, AM, Masculinity and the Minnerede in Berlin mgo 186, in Triviale Minne? Konventionalität und Trivialisierung in spätmittelalterlichen Minnereden, edited by Lieb, L; Neudeck, O (2006), pp. 119-138, de Gruyter.
Rasmussen, AM, Visible and Invisible Landscapes: Medieval Monasticism as a Cultural Resource in the Pacific Northwest, in A Place to Believe In: Medieval Monasticism in the Landscape, edited by Overing, G; Lees, CA (2006), pp. 239-59, Pennsylvania State University Press.
Rasmussen, AM, The Female Figures in Gottfried's Tristan and Isolde, in A Companion to Gottfried's Tristan and Isolde, edited by Hasty, W (2003), pp. 143-63, Columbia, SC: Camden House.
Rasmussen, AM, Reason and the Female Voice in Walther von der Vogelweide's Poetry, in Medieval Woman's Song: Cross-Cultural Approaches (2002), pp. 168-86.
Rasmussen, AM, Thinking through Gender in Late Medieval German Literature, in Gender in Debate from the Middle Ages to the Renaissance, edited by Fenster, T; Lees, CA (2002), pp. 97-111, New York: St. Martin's Press.
Rasmussen, AM, Gendered knowledge and eavesdropping in the late-medieval Minnerede, Speculum a Journal of Medieval Studies, vol. 77 no. 4 (December, 2002), pp. 1168-1189, University of Chicago Press [Gateway.cgi], [doi].
Rasmussen, AM, Fathers to Think Back Through: The Medieval German Mother-Daughter and Father-Son Conduct Poems Known as Die Winsbeckin and Der Winsbecke, in Medieval Conduct, edited by Ashley, K; Clark, RLA (2001), pp. 106-34, Minneapolis: University of Minnesota Press.
Rasmussen, AM, Medieval German Romance, in Cambridge Companion to Medieval Romance, edited by Krueger, R (2000), pp. 183-202, Cambridge, U.K.: Cambridge University Press.
Rasmussen, A, "Ich trug auch ledig siben child": Zur sozialen Konstruktion von Weiblichkeit in der Minnerede "Stiefmutter und Tochter", in fremdes Wahrnehmen - Fremdes wahrnehmen, edited by Harms, W; together, CSJ; Stein, A (1997), pp. 193-204, Stuttgart: Hirzel (Rev. by Will Hasty, German Quarterly 73.1 (2000):87-88, here 87.).
Rasmussen, A, "ez ist ir g'artet von mir": Queen Isolde and Princess Isolde in Gottfried's Tristan und Isolde, in Arthurian Women: A Casebook, edited by Fenster, T (1996), pp. 41-58, New York: Garland (Reprint New York: Routledge, 2001.).
Rasmussen, AM, Woman as audience and audience as woman in mediebal German courtly poetry, Exemplaria, vol. 6 no. 2 (January, 1994), pp. 367-383, Informa UK Limited [doi].