Reiko Mazuka, Research Professor of Psychology and Neuroscience and Linguistics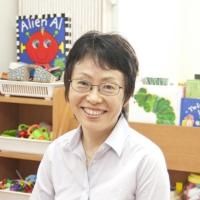 Language acquisition and psycholinguistics. In particular, she is interested in the development and consequences of acquiring very different types of languages. The research has taken a cross-linguistic approach between English and Japanese, and her current research involves the following three areas: (1) study of sentence comprehension strategies by adult and child speakers of Japanese and English; (2) cross- linguistic study of infants' speech perception; and (3) influence of acquiring language specific categories on cognition.
Education:

| | | |
| --- | --- | --- |
| Ph.D. | Cornell University | 1990 |
| M.S. | University of Edinburgh (Scotland) | 1984 |
| MA | Nagoya University | 1983 |
Specialties:

Developmental Psychology
Developmental Psychology
Research Interests: Language Acquisition

Current projects: Characteristics of Japanese infant-directed speech, Acquisition of quantity-based phonemic categories , Role of linguistic markedness and input frequency on infants' acquisition of phonemic categories, Role of prosody on children and adults' sentence comprehension , Executive function and children's sentence processing, Inhibition function and sentence processing

The purpose of our research is to shed light on our understanding of human brain development by investigating the process of acquisition of language skills, specifically in relation to phonological development. Since the sound system of a language is one of the first things infants learn, an examination of the initial stages of phonological acquisition can provide critical insight into how the human brain is structured to learn a language. In particular, as language prosody is an essential (perhaps the critical) key by which children first make sense of the structures of their languages, our program of research is designed to utilize the latest knowledge and technologies (such as Near Infrared Spectroscopy) to ascertain the course of development by which specific prosodic phenomena are naturally acquired.
Areas of Interest:

infant speech perception
phonological development
prosody of Japanese
role of executive function on language acquisition
individual differences in infants' abiliy to learn language
Keywords:

Acoustic Stimulation • Adult • Age Factors • Analysis of Variance • Asian Continental Ancestry Group • Attention • Auditory Cortex • Auditory Pathways • Auditory Perception • Awareness • Brain • Brain Mapping • Cerebral Cortex • Cerebrovascular Circulation • Child • Child Development • Child Language • Child Psychology • Child, Preschool • Cognition • Comprehension • Concept Formation • Cross-Cultural Comparison • Cues • Discrimination (Psychology) • Dominance, Cerebral • Emotions • England • Eye Movements • Fathers • Female • Fixation, Ocular • Fractals • France • Frontal Lobe • Functional Laterality • Generalization (Psychology) • Habituation, Psychophysiologic • Hemoglobins • Humans • Infant • Infant Behavior • Italy • Japan • Japanese • Language • Language acquisition • Language Development • Language Tests • Learning • Linear Models • Linguistics • Magnetic Resonance Imaging • Male • Middle Aged • Models, Biological • Models, Theoretical • Morphosyntax • Mother-Child Relations • Mothers • Mouth • Neuropsychological Tests • Numerical Analysis, Computer-Assisted • Orientation • Perception • Personality • Phonetics • Photic Stimulation • Pitch Perception • Predictive Value of Tests • Psychoacoustics • Psycholinguistics • Reaction Time • Reading • Research Design • Schizophrenia • Semantics • Siblings • Sound Spectrography • Spectroscopy, Near-Infrared • Speech • Speech Acoustics • Speech Intelligibility • Speech Perception • Speech Production Measurement • Tape Recording • Temporal Lobe • Time Factors • United States • Verbal Behavior • Visual Perception • Vocabulary • Word frequency
Current Ph.D. Students (Former Students)
Representative Publications (More Publications)

Zervakis, J; Mazuka, R, Effect of repeated evaluation and repeated exposure on acceptability ratings of sentences., Journal of Psycholinguistic Research, vol. 42 no. 6 (December, 2013), pp. 505-525, ISSN 0090-6905 [23179954], [doi] [abs]
Mazuka, R., The Development of Language Processing Strategies: A cross-linguistic study between Japanese and English (1998), Lawrence Erlbaum Associates
Bion, RAH; Miyazawa, K; Kikuchi, H; Mazuka, R, Learning phonemic vowel length from naturalistic recordings of Japanese infant-directed speech., Plos One, vol. 8 no. 2 (January, 2013), pp. e51594 [23437036], [doi] [abs]
Mazuka, R., Nagai N. (Eds.), Japanese Sentence Processing (1995), Lawrence Erlbaum
Tsuji, S; Gomez, NG; Medina, V; Nazzi, T; Mazuka, R, The labial-coronal effect revisited: Japanese adults say pata, but hear tapa., Cognition, vol. 125 no. 3 (December, 2012), pp. 413-428 [22921188], [doi] [abs]
Mazuka, R., Itoh, K., Kondo, T., Cost of scrambling in Japanese sentence processing, in Papers from International East Asian Psycholinguistics Workshop, edited by M. Nakayama (2002), CSLI, Stanford, California
Nakamura, C; Arai, M; Mazuka, R, Immediate use of prosody and context in predicting a syntactic structure, Cognition, vol. 125 no. 3 (2012), pp. 413-428 [22901508], [doi] [abs]
Choi, Y., Mazuka, R., Akahane-Yamada, R., Korean and Japanese children's production of English /l/ and /r/, in Papers from the Workshop on Acquisition of East Asian Languages, edited by Nakayama, M. (2001), Kuroshio Publisher, Tokyo, Japan
Ito, K; Jincho, N; Minai, U; Yamane, N; Mazuka, R, Intonation facilitates contrast resolution: Evidence from Japanese adults and 6-year olds, Journal of Memory and Language, vol. 66 no. 1 (January, 2012), pp. 265-284, Elsevier BV, ISSN 0749-596X [doi] [abs]
Mazuka, R; Friedman, RS, Linguistic relativity in Japanese and English: Is language the primary determinant in object classification, Journal of East Asian Linguistics, vol. 9 no. 4 (2000), pp. 353-377, ISSN 0925-8558 [abs]
Sato, Y; Kato, M; Mazuka, R, Development of single/geminate obstruent discrimination by Japanese infants: early integration of durational and nondurational cues., Developmental Psychology, vol. 48 no. 1 (January, 2012), pp. 18-34 [21967561], [doi] [abs]
Mazuka, R; Itoh, K; Kondo, T, Processing down the Japanese garden-path sentences, Journal of Psycholinguistic Research, vol. 26 no. 2 (1997), pp. 207-228, ISSN 0090-6905 [9110433] [abs]
Minai, U; Jincho, N; Yamane, N; Mazuka, R, What hinders child semantic computation: children's universal quantification and the development of cognitive control., Journal of Child Language, vol. 39 no. 5 (November, 2012), pp. 919-956 [22182242], [doi] [abs]
Misono, Y; Mazuka, R; Kondo, T; Kiritani, S, Effects and limitations of prosodic and semantic biases on syntactic ambiguity resolution of Japanese sentences, Journal of Psycholinguistic Research, vol. 26 no. 2 (1997), pp. 229-245, ISSN 0090-6905 [9110434] [abs]
Mazuka, R; Cao, Y; Dupoux, E; Christophe, A, The development of a phonological illusion: a cross-linguistic study with Japanese and French infants., Developmental Science, vol. 14 no. 4 (July, 2011), pp. 693-699 [21676090], [doi] [abs]
Mazuka, R., Can a grammatical parameter be set before the first word? Prosodic contributions to early setting of a grammatical parameter, in Signal to Syntax: Bootstrapping from Speech to Grammar in Early Acquisition, edited by J. Morgan, & K. Demuth (1996), Lawrence Erlbaum
Minagawa-Kawai, Y; van der Lely, H; Ramus, F; Sato, Y; Mazuka, R; Dupoux, E, Optical brain imaging reveals general auditory and language-specific processing in early infant development., Cerebral Cortex (New York, N.Y. : 1991), vol. 21 no. 2 (February, 2011), pp. 254-261 [20497946], [doi] [abs]
Sato, Y; Mori, K; Koizumi, T; Minagawa-Kawai, Y; Tanaka, A; Ozawa, E; Wakaba, Y; Mazuka, R, Functional lateralization of speech processing in adults and children who stutter., Frontiers in Psychology, vol. 2 (January, 2011), pp. 70 [21687442], [doi] [abs]
Yoshida, KA; Iversen, JR; Patel, AD; Mazuka, R; Nito, H; Gervain, J; Werker, JF, The development of perceptual grouping biases in infancy: a Japanese-English cross-linguistic study., Cognition, vol. 115 no. 2 (May, 2010), pp. 356-361 [20144456], [doi] [abs]
Matsuda, Y-T; Ueno, K; Waggoner, RA; Erickson, D; Shimura, Y; Tanaka, K; Cheng, K; Mazuka, R, Processing of infant-directed speech by adults., Neuroimage, vol. 54 no. 1 (January, 2011), pp. 611-621 [20691794], [doi] [abs]
Sato, Y; Sogabe, Y; Mazuka, R, Development of hemispheric specialization for lexical pitch-accent in Japanese infants., Journal of Cognitive Neuroscience, vol. 22 no. 11 (November, 2010), pp. 2503-2513 [19925204], [doi] [abs]