Kate Driscoll, Assistant Professor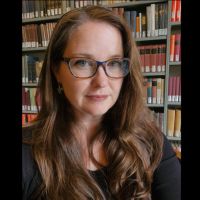 Kate Driscoll is an Assistant Professor in the Department of Romance Studies at Duke University. A multidisciplinary scholar of early modern Italy, Europe, and their global contacts and contexts, her research areas include literary and critical theory, women's and gender studies, cultural and performance history, and musicology. Intertextual and intermedial questions lie at the center of Dr. Driscoll's research and teaching on the cross-cultural circulation of literary texts, the impact and legacies of European colonialism, the different modes of dialogue and mutual influence across art and diplomacy, and the polygonal use of performance in politics.

Her first book, Tasso among the Muses: Reading and Writing Women in Early Modern Italy, is a study of collaboration and collectivity. This work challenges the Romantic construct of "Tasso, the errant madman"—as he has been mythologized by authors from Goethe and Byron, to Baudelaire—by readjusting the focus onto Tasso's contemporary contexts and the literary communities that shape individual poets and their socially oriented literary production. The book engages with critical discourses of early modern sociability in recasting the image of Tasso from a rootless drifter to a strategic networker of intellectual and artistic communities. Emphasizing previously overlooked examples of collaboration in the history of the book and literary sociability, this research emphasizes the collective nature of Tasso's writings that locates him within overlapping circles (e.g., courts, academies, and private salons), which welcomed the itinerant poet and fostered participation by women. The project breaks new methodological ground by reading Tasso's participation in the querelle des femmes through his activities involving women writers, patrons, and performers.

Dr. Driscoll is the author of "'La donna di poche parole' from Page to Stage: Envoicing Enchantment in Epic Poetry and Early Opera" (The Italianist, 41.1) and "Italian Chivalric Epic Poetry and Female Readers," published as part of Routledge Renaissance World. Her other publications are scheduled to appear in collections dedicated to the representations of female ambassadors in Torquato Tasso and Vivaldi, the history of premodern masculinity, and women readers in early modern Italy.

Before arriving at Duke, Dr. Driscoll held a teaching position at Colorado College and was a postdoctoral research fellow at Freie Universität Berlin's Cluster of Excellence, "Temporal Communities: Doing Literature in a Global Perspective."

Her research has been supported by the Renaissance Society of America, American Council of Learned Societies, Andrew W. Mellon Foundation, Modern Language Association, UCLA Center for Medieval and Renaissance Studies, German Excellence Initiative, and the Gladys Krieble Delmas Foundation.

She is a co-editor of the Italian Studies Channel on the New Books Network. Her conversations with authors can be found here.
Teaching (Fall 2023):
ITALIAN 208FS.01, GENDERING THE RENAISSANCE Synopsis

Social Sciences 109, MW 03:05 PM-04:20 PM
(also cross-listed as GSF 251FS.01, MEDREN 250FS.01, ROMST 208FS.01)

ITALIAN 335.01, MAJOR ITALIAN AUTHORS Synopsis

Social Sciences 109, MW 01:25 PM-02:40 PM
Office Hours:

Spring 2023: by appointment.
Education:

| | | |
| --- | --- | --- |
| Ph.D. | University of California - Berkeley | 2020 |
| M.A. | New York University | 2013 |
| B.Mus. | New York University | 2011 |
Keywords:

Epic poetry • Gender • Historiography • Music • Renaissance • Theater • Women poets
Recent Publications

Driscoll, K, Italian Chivalric Epic Poetry and Female Readers, Routledge Encyclopedia of the Renaissance World (October, 2022) [doi]
Driscoll, K, 'La donna di poche parole' from Page to Stage: Envoicing Enchantment in Epic Poetry and Early Opera, Italianist, vol. 41 no. 1 (January, 2021), pp. 1-22, Informa UK Limited [doi]