Pietro Bianchi, Student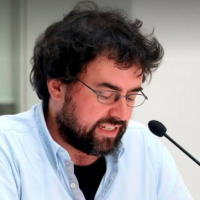 Please note: Pietro has left the "Romance Studies" group at Duke University; some info here might not be up to date.
Pietro Bianchi (Bergamo, Italy) is PhD candidate in Romance Studies at Duke University. He works on Film Studies, Italian and French Cinema, and Psychoanalysis. His first monographic work Jacques Lacan and Cinema: Imaginary, Gaze, Formalisation came out in 2017 for Karnac Books. His current dissertation project titled "The Restlessness of the Imaginary" is a psychoanalytic-infused reflection on Italian and French popular cinema before and after the Second World War.

Prior to joining Duke he completed a PhD in Audiovisual Studies at the University of Udine (Italy) and was research fellow at the Theory Department at the Jan Van Eyck Academy in Maastricht (Netherlands). He also regularly writes as a film critic for the Italian monthly magazine Cineforum and the web journals Doppiozero and DinamoPress.


| | |
| --- | --- |
| Office Location: | |
| Email Address: | |
Keywords:

Cinema Studies • Italian Cinema • Philosophy • Psychoanalysis
Recent Publications (More Publications)

Bianchi, P, Jacques Lacan and Cinema Imaginary, Gaze, Formalisation (November, 2016), pp. 208 pages, Karnac Books, ISBN 1782201726 [abs]
Bianchi, P, The Politics of Italian Westerns, in Death on the Run, edited by Cunningham, J; Corna, LL (August, 2016), Sasha Editions, ISBN 978-3-943620-34-4
Bianchi, P; Pippa, S; Gualandi, A; Boni, L, Epistemologia della psicoanalisi tra Althusser e Lacan, S&F Scienzaefilosofia.It, vol. 13 (December, 2015), pp. 280-327, S&F_scienzaefilosofia.it [abs]
Bianchi, P; Besana, B, Cinema, in Badiou Dictionary, edited by Corcoran, S (July, 2015), pp. 54-60, Edinburgh University Press, ISBN 0748669647 [abs]
Bianchi, P, The Lack(anians). Use and mis-use of a concept between psychoanalysis and science, Filozofski Vestnik International, vol. 34 no. 2 (June, 2013), pp. 177-200, Slovenian Academy of Sciences and Arts