Jessica Namakkal, Associate Professor of the Practice of International Comparative Studies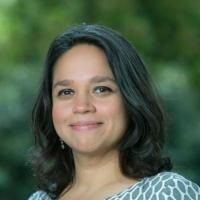 Please note: Jessica has left the "History" group at Duke University; some info here might not be up to date.
My first book Unsettling Utopia: The Making and Unmaking of French (Columbia University Press, 2021) presents a new account of the history of twentieth-century French India to show how colonial projects persisted beyond formal decolonization. Through the experience of the French territories, the book recasts the relationships among colonization, settlement, postcolonial sovereignty, utopianism, and liberation, considering questions of borders, exile, violence, and citizenship from the margins. I demonstrate how state-sponsored decolonization—the bureaucratic process of transferring governance from an imperial state to a postcolonial state—rarely aligned with local desires. The book examines the colonial histories of the Aurobindo Ashram and Auroville, arguing that their continued success shows how decolonization paradoxically opened new spaces of settlement, perpetuating imperial power. Challenging conventional markers of the boundaries of the colonial era as well as nationalist narratives, Unsettling Utopia sheds new light on the legacies of colonialism and offers bold thinking on what decolonization might yet mean.

I am currently working on two new projects, one on decolonizing cults and the other a history of sexuality, race-mixing, and colonialism in the 20th century.


Teaching (Fall 2023):
ICS 335S.01, DECOLONIZATION Synopsis

East Duke 204A, TuTh 01:25 PM-02:40 PM
(also cross-listed as AADS 337S.01, GSF 335S.01, HISTORY 289S.01)
Office Hours:

Fall 2021

Weds 1-3pm
Education:

| | | |
| --- | --- | --- |
| Ph.D. | University of Minnesota, Twin Cities | 2012 |
| PhD | University of Minnesota | 2013 |
| BA | University of Southern California | 2001 |
Research Interests: South Asia, France, Empire, Migration, Global and Postcolonial History

My research focuses on the era, and theories, of decolonization in the 20th-century. I have researched and written about the colonial, decolonial, and postcolonial relationships between France and India, paying particular attention to how the experiences of the people in the French colonies in India challenge the dominant narrative of Indian independence and the "end" of the colonial era. I also work on the question of how decolonization has shaped modern life in Europe, through experiences of postcolonial migrations and global tourism. The manuscript I am currently working on seeks to expand understandings of decolonization from an isolated relationship between metropole and colony to a global context.
Recent Publications (More Publications)

Namakkal, J, Unsettling Utopia (December, 2021), Columbia University Press [doi]
Namakkal, J, Unsettling Utopia The Making and Unmaking of French India (June, 2021), pp. 256 pages, ISBN 0231197691 [abs]
Bray, M; Namakkal, J; Riccò, G; Roubinek, E, Editors' introduction, Radical History Review, vol. 2020 no. 138 (January, 2020), pp. 1-9 [doi]
Namakkal, J, Decolonizing marriage and the family: The lives and letters of Ida, benoy, and Indira sarkar, Journal of Women'S History, vol. 31 no. 2 (January, 2019), pp. 124-147, Project Muse [doi] [abs]