Vanessa Freije,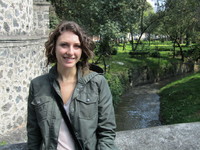 Please note: Vanessa has left the "History" group at Duke University; some info here might not be up to date.
| | |
| --- | --- |
| Office Location: | |
| Email Address: | |
Education:

| | | |
| --- | --- | --- |
| MA, History | Duke University | 2011 |
| BA, History with Honors | University of California San Diego | 2007 |
Research Interests: Latin America, Mexico, journalism, and the history of ideas

I am a PhD candidate in Latin American history. My interests include the history of ideas; censorship and free speech; and processes of political change. My dissertation, "Journalists, Scandal, and the Unraveling of One-Party Rule in Mexico, 1965-1988," reconsiders the roots of Mexico's democratic transition. It seeks to resolve an apparent paradox: Mexican journalists consistently voiced criticism of the one-party regime while benefitting from their close relationships with political leaders. Popular and scholarly works tend to overlook such vocal attacks, citing conflicts of interest and corruption to downplay journalists' political roles. Through access to reporters' private archives, my research reveals that media scandals both reflected and sharpened regime divisions during the final decades of the Partido Revolucionario Institucional's (PRI) rule. I contend that journalists generated new expectations about corruption, legitimacy, and democracy, ultimately contributing to the shape Mexico's political change would take. By examining the role of journalists in Mexico's political change, I question the relationship between free speech and democracy. My research has been supported by the Fulbright-García Robles Fellowship; a Pre-Doctoral Fellowship from U.S.-Mexican Studies Center at the University of California San Diego; and the Katherine Goodman Stern Dissertation Completion Fellowship.
Recent Publications

Vanessa Freije, "Secrets and Revelations: Manuel Buendía, Columnismo, and the Unraveling of One-Party Rule in Mexico, 1965-1984", The Americas (April, 2015) (forthcoming.)