Ian G Dobbins, Assistant Professor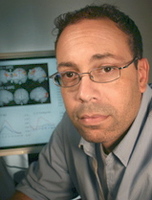 Education:

| | | |
| --- | --- | --- |
| PhD | University of California: Davis | 1999 |
| MS | Western Washington University | 1994 |
| BS | University of Washington | 1988 |
Specialties:

Cognition and Cognitive Neuroscience
Developmental Psychology
Research Interests:

My area of research involves explicit and implicit memory with a particular focus on explicit recognition judgments; that is, the decision that someone or something was an element of an earlier personal experience. The nature and number of processes involved in recognition memory is currently under debate. Using such methods as 1) statistical modeling of behavioral data, 2) examination of recognition in patients with focal brain damage and 3) functional magnetic resonance imaging (fMRI) of healthy participants during various recognition tasks, we are beginning understand the complex processes which allow us to situate current experiences into our own unique personal pasts.
Areas of Interest:

Explicit Memory
Implicit Memory
Functional Neuroimaging
Criterion/Response Bias
Signal Detection Theory
Postdocs Mentored

Ana L. Rapaso (2006/12-present)
Norbou Bouchler (2006/12-present)
Recent Publications (More Publications) (search)

Dobbins, I.G., & Han, S (2006). Cue- versus probe-dependent prefrontal cortex activity during contextual remembering. Journal of Cognitive Neuroscience, 18, 1439-52.
Schnyer, D.M., Dobbins, I.G., Nicholls, L., Davis, S., Verfaellie, M., & Schacter, D. L (in press). Item to decision mapping in rapid response learning. Memory & Cognition.
Fleck, M.S., Daselaar, S.M., Dobbins, I.G., & Cabaza, R (2006). Role of prefrontal and anterior cingulate regions in decision-making processes shared by memory and non-memory tasks. Cerebral Cortex, 16, 1623-30.
Dobbins, I. G. & Davachi, L "Functional neuroimaging of episodic memory." Handbook of functional neuroimaging of cognition. Ed. R. Cabeza & L. Nyberg 2ndMIT Press, 2006
Schnyer, D. M., Dobbins, I. G., Nicholls, L., Schacter, D. L., & Verfaellie, M (2006). Rapid response learning in amnesia: Delineating associative learning components in repetition priming. Neuropsychologia, 44(1), 140-9.
Sanghoon Han (Graduate Student)