Reiko Mazuka, Research Professor of Psychology and Neuroscience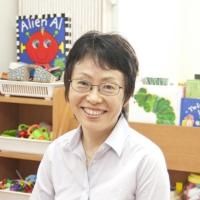 Education:

| | | |
| --- | --- | --- |
| Ph.D. | Cornell University | 1990 |
| M.S. | University of Edinburgh (United Kingdom) | 1984 |
| MA | Nagoya University | 1983 |
Specialties:

Developmental Psychology
Research Interests: Language Acquisition

Current projects: Characteristics of Japanese infant-directed speech, Acquisition of quantity-based phonemic categories , Role of linguistic markedness and input frequency on infants' acquisition of phonemic categories, Role of prosody on children and adults' sentence comprehension , Executive function and children's sentence processing, Inhibition function and sentence processing

The purpose of our research is to shed light on our understanding of human brain development by investigating the process of acquisition of language skills, specifically in relation to phonological development. Since the sound system of a language is one of the first things infants learn, an examination of the initial stages of phonological acquisition can provide critical insight into how the human brain is structured to learn a language. In particular, as language prosody is an essential (perhaps the critical) key by which children first make sense of the structures of their languages, our program of research is designed to utilize the latest knowledge and technologies (such as Near Infrared Spectroscopy) to ascertain the course of development by which specific prosodic phenomena are naturally acquired.
Areas of Interest:

infant speech perception
phonological development
prosody of Japanese
role of executive function on language acquisition
individual differences in infants' abiliy to learn language
Current Ph.D. Students (Former Students)
Representative Publications (More Publications) (search)