Gabriel N. Rosenberg, Associate Professor of Gender, Sexuality and Feminist Studies and Associate Professor of History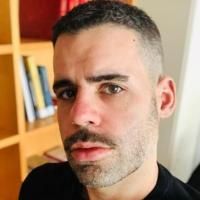 | | |
| --- | --- |
| Office Location: | 112 East Duke, Durham, NC 27708 |
| Office Phone: | (919) 684-1428 |
| Email Address: | |
Teaching (Fall 2021):
Gsf 89s.02, First-year seminar (top) Synopsis

Class bldg 106, MW 03:30 PM-04:45 PM

Gsf 386s.01, Politics of sexuality Synopsis

West duke 08a, MW 12:00 PM-01:15 PM
(also cross-listed as HISTORY 346S.01, PUBPOL 383S.01, RIGHTS 386S.01, SXL 386S.01)
Education:
Ph.D. Brown University 2011
AM Brown University 2004
BA Grinnell College 2003
Research Interests:

Current projects: The 4-H Harvest: Sexuality and the State in Rural America, Purebred: Making Meat and Eugenics in the Modern United States

Gabriel Rosenberg's research investigates the historical and contemporary linkages among gender, sexuality, and the global food system. In particular, he studies spaces of agricultural production as important sites for the constitution and governance of intimacy – intimacy both between and among humans, animals, and plants. Although central throughout history to human knowledge about reproduction, agriculture has been peripheral to accounts of the governance of sexuality. In tandem, while historical accounts of American state power have productively questioned matters of governance through the lens of agriculture, they have largely overlooked sexuality as its own formative analytic. His research looks to agriculture as a site of knowledge/power formation that inscribes and mobilizes both human and non-human bodies and desire. Reflecting his training as a historian of the modern United States, he uses the archives of the America's agricultural past to exhume the tangled relationships between agricultural practices and the governance of human gender and sexuality, a relationship that now conditions America's relationship to the agricultural peripheries of the global South.
Recent Publications
(More Publications)
Rosenberg, GN. "No Scrubs: Livestock breeding, eugenics, and the state in the early twentieth-century United States." The Journal of American History 107:2 (January, Submitted, 2020): 362-387. [doi]
Way, ; Okie, ; Funes-Monzote, ; Nance, ; Rosenberg, ; Specht, ; Swart,. "Roundtable: Animal History in a Time of Crisis." Agricultural History 94:3 (Submitted, 2020): 444-444. [doi]
Rosenberg, G. "Animals." The Routledge History of American Sexuality 2020: 32-41. [abs]
Rosenberg, G. "How Meat Changed Sex." Glq: a Journal of Lesbian and Gay Studies 23:4 (Submitted, 2017): 473-507. [doi]
Rosenberg, GN, "Beyond the Fruited Plain: Food and Agriculture in U.S. Literature, 1850-1905". American Literature 88:2 (June, 2016): 408-410.