Tenesoya Martin De La Nuez, Instructor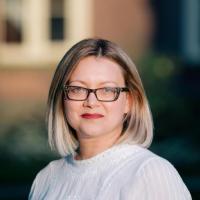 Please note: Tenesoya has left the "Romance Studies" group at Duke University; some info here might not be up to date.

Thenesoya Vidina Martín De la Nuez (Ph.D. Harvard University) is a scholar of Spanish (Pen)Insular literature and culture, African and Asian literature in Spanish. Her research and teaching interests include Islands and Archipelagic postcolonial literature, Environmental and Digital Humanities.

Her research delves into topics related to islands and archipelagic studies; islands colonization and the relationship between landscape and power; the rhetoric of imperial insularity in Transatlantic and Pacific territories; displacement; discourses and practices of national and peripheral identity formation; as well as of notions of provincialism, belonging, isolation, fluidity, and migration. Thenesoya's interests comprise photography and film, literary and "artivism" responses in the Anthropocene, digital humanities, and mapping visualizations.

As a cultural manager, she is the creator of CISLANDERUS cultural project and traveling exhibition, currently part of the permanent collection of Louisiana State Museum.

She is currently working as a Spanish Instructor in the Department of Romance Studies at Duke University.


Research interests: Atlantic and Archipelagic Studies; (Pen)insular Spanish literature; African and Asian literature in Spanish; Migration-Displacement Studies; Photography/Film Studies; Environmental Humanities; Digital Humanities.
Office Hours:

Wednesdays 4.05-5.05 pm MarketPlace, East Campus
Keywords:

African literature (Spanish) • Archipelagic Studies • Caribbean literature (Spanish) • Cross-cultural studies • Digital humanities • Environmental Humanities • Equatorial Guinean literature (Spanish) • Global Hispanophone • Islands • Islands--Canary Islands • Modern Spanish Peninsular • Philippine literature (Spanish) • Postcolonialism
Recent Publications

Martin De La Nuez, T, Dystopian Insular Narrative and the Anthropocene Discourse, edited by Pugh, J; Chandler, D, Islands Studies Journal,, vol. 17(1) no. May 2022 (May, 2022), Island Studies Journal, University of Prince Edward Island [abs]
Connecting the Global Hispanophone. African and Asian Literature in Spanish, edited by Martin De La Nuez, TV (March, 2022), Vernon Press
Laurel, JTÁ, Cuando a Guinea se iba por mar, edited by Martin De La Nuez, TV (2019), pp. 236 pages, Carena, ISBN 8417852069
Martin De La Nuez, T, (Re)escribiendo la historia desde la agencia africana: La reconstrucción narrativa de la realidad en la obra de Ávila Laurel, edited by Luis, W, Afro Hispanic Review, vol. Vol. 28 no. No. 2, Equatorial Guinea (FALL 2009), pp (September, 2009), Vanderbilt University