Bradley Rogers, Assistant Professor of Theater Studies and English and Assistant Professor in the Progam of Gender, Sexuality & Feminist Studies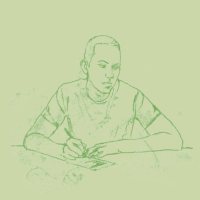 Research Interests:

Bradley Rogers (Ph.D., Rhetoric, University of California, Berkeley) focuses on performance theory and on musical theater, with secondary research interests in the relationship between theater, film, and new media; gender and sexuality; the relationships between visuality and aurality in theater; and American theatrical culture.
Specialties:

Theater History
Performance Studies
Literary & Cultural Criticism
Dramatic Literature
Film
Recent Publications

Rogers, JB. The Song is You Musical Theatre and the Politics of Bursting Into Song and Dance. (2020). [abs]
Rogers, B. "Redressing The Black Crook: The Dancing Tableau of Melodrama." Modern Drama 55 (February, 2014): 476-496.
B. Rogers. "The Interpellations of Interpolation, or The Disintegrating Female Musical Body." Camera Obscura 67 (2008): 88-111.
Publications:

"Redressing the Black Crook: The Dancing Tableau of Melodrama," Modern Drama (Winter 2012)
"The Interpellations of Interpolation, or the Disintegrating Female Musical Body," Camera Obscura (Fall 2008)