Alison Hill, Assistant Professor of the Practice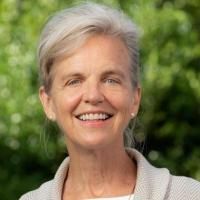 Education:
PhD,, University of North Carolina at Chapel Hill, 1988
Ph.D., University of North Carolina at Chapel Hill, 1987
B.A., Antioch College, 1978

Office Location: 0054 Bio Sci Bldg, Durham, NC 27708
Email Address: alhill@duke.edu


Specialties:
Genetics
Cell and Molecular Biology
Recent Publications (More Publications) (search)
Schultz, T., Medina, J., Hill, A. and Quatrano, R. S., 14-3-3 proteins are part of an ABA/VP1 response complex in the Em promoter and interact with VP1 and EmBP1., Plant Cell 10: 837-848., vol. 10 (1998), pp. 837-848. .
Bloom, K.S., Hill, A. and Jones, E., Condtional Dicentric Chromosomes in Yeast., in Aneuploidy: Mechanisms of Origin, edited by B.Vig and M.Resnick (1989), Alan R.Liss Inc .
Edgell, M.H., Hardies, S.C. , Brown, B., Voliva, C., Hill, A. Phillips, S., Comer, M., Burton, F. Weaver, S. and Hutchison, C.A.III, Evolution of the Mouse Beta Globin Complex Locus, in Evolution of Genes and Proteins, M.Nei and R.K.Koehn (1983), pp. 1-14, Sinauer Associates Inc. .
Hutchison, C.A. III, Brown, B.A., Davis, M.G., Hardies, S., Hill, A., Padgett, R.W, The Beta Globin Locus of the Mouse, in Regulation of Hemoglobin Biosynthesis, E.Goldwasser, Elsevier Biomedical (1984), pp. 51-68 .
Bloom, K.S., Hill, A. and Yeh, E., Chromosome mechanics in yeast, Bioessays News and Reviews in Molecular, Cellular and Developmental Biology, vol. 4 (1986), pp. 100-104, Cambridge University Press .