Alison Hill, Senior Lecturer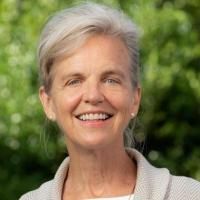 My primary focus in the department is instructional. I teach courses for both biology majors and non-majors. I continue to develop and innovate the Molecular Biology lab curriculum and am involved in efforts to improve instruction by bringing formative assessment into our lectures. My non-majors courses (Genetics, Genomics and Society and Biology of Aging) emphasize scientific literacy for non-majors and introduce foundational principles of genetics and molecular biology while exploring the relevant innovations and accompanying societal issues. My scholarly work focuses on how to help students gain mastery in complex problem solving in biology and how creative assessments can affect student learning outcomes. I expanded my non-majors courses to an international audience when I taught Genetics, Genomics and Society at Duke in Kunshan.
Education:
Ph.D., University of North Carolina - Chapel Hill, 1987
PhD,, University of North Carolina at Chapel Hill, 1988
B.A., Antioch College, 1978

Office Location: 0054 Bio Sci Bldg, Durham, NC 27708
Office Phone: (919) 660-7349
Email Address: alhill@duke.edu


Specialties:
Genetics
Cell and Molecular Biology
Recent Publications (More Publications) (search)
Schultz, T., Medina, J., Hill, A. and Quatrano, R. S., 14-3-3 proteins are part of an ABA/VP1 response complex in the Em promoter and interact with VP1 and EmBP1., Plant Cell 10: 837-848., vol. 10 (1998), pp. 837-848. .
Bloom, K.S., Hill, A. and Jones, E., Condtional Dicentric Chromosomes in Yeast., in Aneuploidy: Mechanisms of Origin, edited by B.Vig and M.Resnick (1989), Alan R.Liss Inc .
Edgell, M.H., Hardies, S.C. , Brown, B., Voliva, C., Hill, A. Phillips, S., Comer, M., Burton, F. Weaver, S. and Hutchison, C.A.III, Evolution of the Mouse Beta Globin Complex Locus, in Evolution of Genes and Proteins, M.Nei and R.K.Koehn (1983), pp. 1-14, Sinauer Associates Inc. .
Hutchison, C.A. III, Brown, B.A., Davis, M.G., Hardies, S., Hill, A., Padgett, R.W, The Beta Globin Locus of the Mouse, in Regulation of Hemoglobin Biosynthesis, E.Goldwasser, Elsevier Biomedical (1984), pp. 51-68 .
Bloom, KS; Hill, A; Yeh, E, Chromosome mechanics in yeast, Bioessays News and Reviews in Molecular, Cellular and Developmental Biology, vol. 4 (2008), pp. 100-104, Cambridge University Press .