Paul S Manos, Professor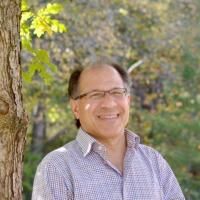 Office Location: BioSci: 330
Office Phone: (919) 660-7358
Email Address: pmanos@duke.edu


Specialties:
Systematics
Research Categories: Systematics and phylogeography of flowering plants
Research Description: My research emphasizes woody plants, especially the systematics of Fagaceae (the oak family), Juglandaceae (the walnut family), and related wind-pollinated families of flowering plants. I generally use DNA sequences to generate hypotheses of phylogenetic relationship for inferring morphological character evolution, analyzing patterns of biogeography, and revising classification. Students in my lab have studied the systematics and diversification of the following angiosperm families: Acanthaceae, Nyctaginaceae, Zingiberaceae, Rhamnaceae, Montiaceae, Humiriaceae, Solanaceae, Convolvulaceae, Piperaceae, and Dilleniaceae. Current research interests involve a range of evolutionary and ecological questions within the Fagaceae, especially the genus Quercus. In collaboration with Chuck Cannon and Sang-Hun Oh, we have reinterpreted cupule evolution in the Fagaceae and calibrated the phylogeny for the entire family. Another collaboration with Andrew Hipp, Jeannine Cavender-Bares, and Jeanne Romero-Severson seeks to integrate phylogenetic data with phenotypic traits and functional genes to explain species distributions in the oaks. Secondary research interests include genetic structure of tree species, phylogeny of neotropical tree communities, and the phylogeography of eastern North American species.
Recent Publications (More Publications) (search)
P.S. Manos and J.E. Meireles, Biogeographic analysis of the woody plants of the Southern Appalachians: Implications for the origins of a regional flora., American journal of botany, vol. 102 no. 5 (May, 2015), pp. 780-804 [doi] [abs].
Cavender-Bares, J., D. Eaton, A. Gonzalez-Rodriguez, A. Hipp, A. Beulke and P.S. Manos, Phylogeny and biogeography of the American live oaks (Quercus subsection Virentes): A genomic and population genetic approach, Molecular Ecology (2015) .
Hipp, A.L., D.A. Eaton, J. Cavender-Bares, E. Fitzek, R. Nipper, and P.S. Manos, A framework phylogeny of the American oak clade based on sequenced RAD data., PloS one, vol. 9 no. 4 (2014), pp. e93975 [doi] [abs].
Burge, DO, Hopkins R, Tsai Y-H, and PS Manos, Limited hybridization across an edaphic disjunction between the gabbro-endemic shrub Ceanothus roderickii (Rhamnaceae) and the soil-generalist Ceanothus cuneatus., Am J Bot, vol. 100 no. 9 (September, 2013), pp. 1883-1895 [24018856], [doi] [abs].